Unruly passenger physically assaulted flight attendant, American Airlines says
2 min read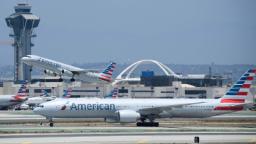 (CNN) — A US airline flight attendant was physically assaulted by an unruly passenger on Wednesday, according to airline officials.
The incident occurred on American Airlines Flight 377, which operated from San Jose del Cabo, Mexico to Los Angeles International Airport. According to an American Airlines statement, law enforcement met the flight at the gate and removed the unruly man.
A video posted on social media shows a man walking a flight attendant to the front of the plane and punching the flight attendant with an audible gasp from passengers who witnessed the incident. .
"American Airlines does not tolerate acts of violence against our team members," the airline's statement said. "The individual involved in this incident will never be allowed to travel with us in the future, and we will work closely with law enforcement in their investigation."
A passenger on that flight was arrested, confirmed Ciaran McEvoy, public information officer for the United States Attorney's Office Central District of California. McEvoy added that his office is consulting with the FBI. No other information was provided.
CNN has reached out to the FBI and Los Angeles World Airports police for more information.
"We thank our crew for their prompt action and professionalism to ensure the safety of their fellow crew members and customers onboard," American Airlines said in a statement. " "Our thoughts are with our injured flight attendant, and we are making sure she and her fellow crew members get the help they need at this time."
The Association of Professional Flight Attendants (APFA), the union representing more than 24,000 American airlines' flight attendants, condemned the passenger's behavior.
"This violent behavior endangers the safety of all passengers and crew and must stop," APFA National President Julie Hedrick said in a statement.
"APFA fully supports the affected crew members, and will do everything possible to ensure that the passenger is prosecuted to the fullest extent of the law."
Measures to deal with unruly passengers
In January 2021, the Federal Aviation Administration announced a "zero tolerance" policy for unruly passenger behavior that skips warnings or counseling and goes straight to penalties, including hefty fines and jail time. can
The FAA proposes $5 million in fines against unruly passengers in 2021.
While the number of reported incidents has decreased, so has the number of cases where enforcement action was initiated. So far in 2022, 468 enforcement cases have been initiated. In 2021, there were 350.
Top photo: American Airlines planes are seen at Los Angeles International Airport in this July 2021 file photo. (Patrick T. Fallon/AFP/Getty Images)