Macron warns of global 'crisis of democracies' after years of 'destabilization' efforts in exclusive US interview
1 min read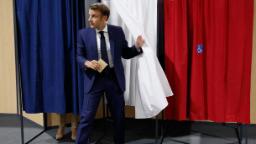 "I think we have. [a] The great crisis of democracy, which I will call liberal democracy. Let's be clear about this. Why? First, because open societies and open and very cooperative democracies put pressure on your people. It could destabilize them," Macron said in an interview taped Wednesday, which will air Thursday on CNN's "The Lead."
"And that's why we must always define all progress based on the consent of the people, references to the middle class, and the welcoming of different cultures by our democracies. It's a matter of balance. is," he continued.
"It's clear that over the last few years we've had increased pressure on our societies and we're at a point where, in our various countries, I would call it a crisis of the middle class."
Macron's comments echo those of President Joe Biden.
Extensive effort
Preparing to define the 21st century global competition through democracies versus autocracies. Such warnings have taken on new weight in recent months as Russia's unprovoked war in Ukraine mounts, as well as fears of a global recession and threats to democracy.
Macron
Won re-election in April.
A globalist, economically liberal French electorate with a strong European Union at the helm.
But the performance of his far-right rival Marine Le Pen is the latest sign that the French public is turning to extremist politicians to express their discontent with the status quo.