Lewis Hamilton: F1 driver details 'traumatizing' racist abuse he says he suffered at school
2 min read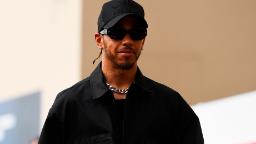 CNN
–

Seven-time Formula One champion Lewis Hamilton has described in detail the racist abuse he says he experienced at school 'On Purpose' with Jay Shetty The podcast was released on Monday.
"School was the most painful and difficult part of my life. I was already being bullied at the age of six," said the Mercedes driver.
"At this particular school, I was one of three colored kids and just the big, strong, bully kids threw me around a lot of the time," the Mercedes driver said.
"And the constant shocks, things that are either thrown at you, like bananas, or people who use the N-word too casually. People call you half-caste and don't know where you fit in. It was difficult," he added.
"in my [secondary] At the school, there were six or seven black kids out of 1,200 kids, and three of us were kept outside the headmaster's office at all times," Hamilton continued.
"I felt the system was against me and I was swimming against the tide … I had suppressed a lot of things.
"I didn't feel like I could go home and tell my parents that these kids kept calling me the N-word or that I was bullied or beaten up at school today, or that I wasn't able to defend myself. Didn't want my dad to think I'm not strong," she added.
CNN reached out to Hamilton schools but did not receive a response.
The more than hour-long interview is the 38-year-old Hamilton's first podcast appearance.
Stevenage-born Hamilton is F1's only black driver, and in 2021, he partnered with Mercedes to launch Ignite, a joint charity initiative to support greater diversity and inclusion in motorsport.
Hamilton also founded Mission 44, which aims to enhance the lives of people from underrepresented groups.
Hamilton will begin his 17th F1 season on March 5 at the Bahrain Grand Prix.