IOC clears path for Russian and Belarusian athletes to participate in upcoming Olympic Games
1 min read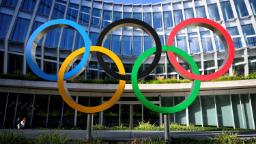 CNN
–

The International Olympic Committee (IOC) outlined a multi-step plan for Russian and Belarusian athletes to participate in the upcoming 2024 Summer Games in Paris and 2026. Winter sports In Milan
"An athlete should not be prevented from competing solely because of his passport," the IOC's executive board declared.
The IOC said it would continue its sanctions against the Russian and Belarusian states and government officials and ban sports events organized by the federations of the two countries.
The organization said its board met and "unanimously affirmed and called for further strengthening of existing sanctions."
The IOC said it would reaffirm and strengthen the organization's "solidarity with Ukrainian athletes and the Ukrainian Olympic community" and support Ukraine's efforts to field a strong team at the Paris and Milan Games.
The IOC said that for Russian and Belarusian athletes to compete, they would "represent as neutral athletes and not in any way represent their state or any other organization in their country."
"There are no flags, anthems, colors or any other identification of any of these countries being displayed at any sporting event or meeting, including at the venue."
A joint statement by athletes' rights group Global Athlete and Ukrainian Athletes said the IOC's plan to allow Russian and Belarusian athletes to participate in the upcoming Olympic Games only bolsters "Russia's propaganda machine."