Chesapeake Walmart shooting: Multiple fatalities and injuries reported in Virginia Tuesday evening
2 min read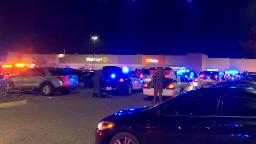 CNN
–

Multiple people were killed and injured in a shooting at a Walmart in Chesapeake, Virginia, on Tuesday night, police said.
Chesapeake Police Public Information Officer Leo Kosinski told CNN that officers responded to the store less than an hour before closing time around 10:12 p.m. and found victims and evidence of the shooting.
Kosinski said details on how many people were actually killed or injured would not be available until late Wednesday as investigators continued to sweep the store overnight to look for more victims or people hiding. Earlier, he said police believed the death toll was "less than ten".
"We're only a few hours from the initial incident, so everything is very fast, just brand new," Kosinski said.
The shooter is believed to be among the dead, Kosinski said, adding that it is not believed that any law enforcement officers fired shots during the retaliation.
Law enforcement sources told CNN that investigators believe the shooter was a store employee or former employee who opened fire on other employees in the break room.
According to sources, it is believed that the shooter turned the gun on himself at some point.
City of Chesapeake officials asked people to stay away from the store while they investigated. "Our first responders are well trained and ready to respond. Please give them the space to do so," the city said in a Tweet.
"We are shocked by this tragic incident at our Chesapeake, Virginia store," Walmart said in a statement. "We are praying for those affected, the community and our colleagues. We are working closely with law enforcement agencies, and we are focused on supporting our colleagues," the statement said.
Joetta Jeffery told CNN that her mother, Betsy Amplett, sent her texts from inside the store during the shooting, alerting her that someone had opened fire.
"I'm crying, I'm shaking," Jeffrey told CNN. "I had just talked to him about buying a turkey for Thanksgiving, then this text came through."
Jeffrey said his mother is not injured but in shock, and they have been reunited.
A reunion center was established at the Chesapeake Conference Center, City officials said. They are asking that only immediate family and emergency contacts go to the center for people in the store.
The Washington, D.C., Bureau of Alcohol, Tobacco, Firearms and Explosives Field Office is assisting local police in the investigation. said On Twitter