Balenciaga apologizes for ads featuring children holding bondage bears
3 min read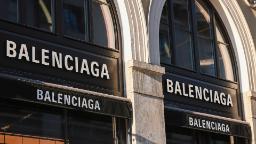 Luxury fashion house
Balenciaga
has apologized for showing children hugging teddy bears dressed in bandage gear in its latest ad campaign.
Shot by photographer Gabrielle Galamberti, the images accompanying the Balenciaga Gift Shop campaign feature young children dressed in the Balenciaga Kids line.
According to the original press release issued last week, "The campaign artists' series iterates on Toy Story, an exploration of what people collect and receive as gifts."
In its original press release, the company said the line includes "dozens of new products, from home goods, pet and fragrance to everyday items to limited-edition collectibles and bespoke furniture."
But there was a furious backlash on social media at the shots, which showed toddlers dressed in plush teddy bear bags in what looked like BDSM-inspired outfits. A picture of a child has an arrangement of empty wine glasses.
One Twitter user wrote: "Balenciaga "might have apologized" but everyone knows the campaign backfired at the highest level. It's a publicity tactic, to draw attention away from controversial content. Attempts are being made. I do not accept their apology and never will. Sexualizing children is never okay."
The company posted an apology on this.
Instagram
announcing on Tuesday that the campaign had been removed.
"We sincerely apologize for any offense caused by our holiday campaign," the statement said.
"Our teddy bear bags should not have been shown with children in this campaign. We have immediately removed the campaign from all platforms."
Photographer Galimberti told CNN in a statement Wednesday that the direction and shooting of the campaign was out of his hands.
"I am not in a position to comment. [on] Balenciaga's selections, but I must emphasize that I was in no way entitled to choose either the products, the models, or the collection.
"As a photographer, all I was asked to do was to illuminate a given scene, and take shots in my signature style.
"As always, the direction of the campaign and shoot is not in the hands of the photographer."
He added: "I suspect that anyone with pedophilia searches the web and unfortunately has very easy access to their horrific content, quite unlike my images. The real problem, and Guilty."
'We stand to protect children'
Hours after issuing the apology, Balenciaga posted another statement on Instagram apologizing for displaying "disturbing documents" in a separate campaign, including a Supreme Court case over child pornography laws. Documents cited.
The company said, "We apologize for showing disturbing documents in our campaign. We take this matter very seriously and are taking legal action against the parties responsible for creating the sets and photos from our Bihar 23 campaign. Includes non-approved items for the shoot," the company said.
"We strongly condemn child abuse in any form. We stand for the safety and well-being of children."
Galimberti said he "has nothing to do with the picture where the Supreme Court document appears."
Just last month, Balenciaga cut ties with the rapper, formerly known as Kanye West, after a series of anti-Semitic posts and controversial comments.
CNN has reached out to Kering, Balenciaga's parent company, for comment.