Video: Sean Hannity texted Meadows he was fed up with 'f'ing lunatics'
1 min read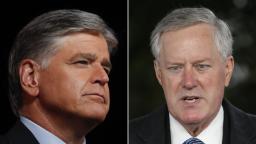 Former White House Chief of Staff Mark Meadows and Fox's Sean Hunty were exchanged.
More than 80 text messages
Between Election Day 2020 and Joe Biden's January 2021 inauguration, communications that reveal Hanti's evolution from a staunch supporter of former President Donald Trump's election to "crazy" Are "fed up" with. CNN's Jamie Gangel is the special report.