Shireen Abu Akleh: Al Jazeera journalist shot and killed in Jenin, West Bank
1 min read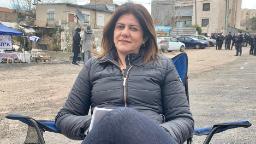 The Palestinian Ministry of Health said a live bullet had hit her in the head in Jenin, and her death was confirmed shortly thereafter. Another journalist, Ali al-Samoudi, was also shot and is in stable condition, the ministry said.
Al Jazeera accused Israeli security forces of killing Aklih, saying: "Israeli forces shot Abu Aklih in the head while she was on assignment in Jenin."
The Israeli Defense Forces said its security forces were working to "arrest suspects involved in terrorist activities" in the area and that both Palestinian suspects and Israeli forces were firing at the time.
The IDF said, "As part of the activity in the Jenin refugee camp, the suspects opened fire on the force and threw explosives. The force returned fire." The IDF said.
The IDF added that it was "investigating the possibility that the journalists were shot dead by Palestinians."
This is a developing story …