Premarket stocks: Are tech stocks getting burned again?
5 min read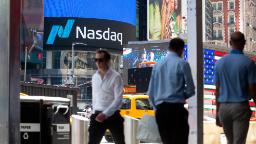 What's happening: The tech-heavy Nasdaq Composite last week deflated investors who had hoped the sector was finally on the way to life after suffering its worst first half in decades.
Last month, the Nasdaq made a strong rally that continued into August. The index went on its longest weekly winning streak since November and entered a new bull market.
The jump followed some positive inflation data released earlier this month that boosted investor sentiment and relieved the stock market. The consumer price index rose 8.5 percent year-on-year in July, down from 9.1 percent in June. This raised hopes that the Federal Reserve would take a less aggressive approach to future rate hikes.
It seems that the central bank will not be as gullible as investors would like.
"Restoring price stability will likely require maintaining a restrictive policy stance for some time," Fed Chair Jerome Powell said Friday from the central bank's Jackson Hole symposium.
Tracking the results: The comments sent the markets crashing. The Dow lost more than 1,000 points, or 3%, and the Nasdaq fell 3.9%.
Because the tech sector is so forward-looking, it is particularly sensitive to changes in interest rates and inflation. When prices are low, tech company valuations tend to rise and become higher, as risky investments look more attractive. When interest rates rise, it is difficult to court investors.
Companies that rely on consumer spending and ad revenue — think names like Amazon, Facebook and Twitter — could be in trouble. But it's not all bad news, according to Sameer Samana, senior global market strategist at the Wells Fargo Investment Institute.
He sees companies like Cisco and Microsoft as worth buying in software, hardware and semiconductors.
"It's a secular theme for us," he said. "Advances in automation and the Internet of Things give these companies a longer shelf life."
The hard part, he said, is that "the discretionary earnings shoe has yet to drop for tech." Consumers may scale back spending as inflation continues to bite. Buyer beware.
Don't rule out Amazon's healthcare push just yet.
"Healthcare has been very slow to adopt and adopt technology," said John Porter, chief investment officer at Newton Investment Management. "All the big tech firms have seen health care as an area they can get into and improve. But then they see how complicated it is. There are privacy issues, and payment. It's a very complex system."
That doesn't mean it's the end. Amazon is still heavily invested in Pillpack, a digital pharmacy service, and OneMedical, a primary care chain.
Porter said false starts have been frequent, but tech is starting to dip its toe into the health sector. And he has a word of advice for the industry: stick to what you know.
"Everybody has some sort of health tracker on their wrist," he said. "It's a Trojan horse for tech to get into business."
He added that by allowing consumers to track their health data and report it to doctors if they choose, tech companies can address numerous legal and regulatory issues associated with the health care industry. not required.
After all, trial and error is what tech companies should focus on right now.
"They can step back and try another approach to the market, which is what you're seeing with Amazon," he said. "It's a bit of a discount, but it's a big money opportunity." Big Tech isn't going anywhere.
Mark Zuckerberg is not a morning person.
Next