Oil plunges below $80 to eight-month low as recession fears mount
2 min read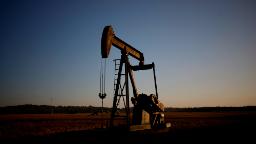 Oil fell 5.7% to $78.73 a barrel on Friday – the lowest intraday level since January 11.
Investors are concerned about the Federal Reserve's drive to keep inflation under control by punishing interest rate hikes designed to slow the U.S. economy.
"They're deliberately sending this economy into recession," said Robert Yauger, vice president of energy futures at Mizuho Securities.
Markets are betting the Fed's rate hikes — the latest coming earlier this week — will hurt energy demand by causing people to drive and fly less and businesses to use less energy. .
"Feed rate hikes are killing demand for everything, especially energy," Yauger said.
Gasoline prices fell for 98 consecutive days until Wednesday when they hit a high. The national average for regular gasoline rose to $3.69 a gallon on Friday.
According to the AAA
. That's well below the June 14 peak of $5.02 per gallon.
The decline in the energy market is being fueled in part by a skyrocketing U.S. dollar, which continues to rise against rival currencies as investors flee to safe havens. This power is negative for oil — which is priced in dollars — because it erodes the purchasing power of foreign buyers.
"This market says, 'If we're going into a recession, we're going to go into the dollar and sell everything else.' Oil is getting caught up in it," said Michael Tran, commodity and digital intelligence strategist at RBC Capital Markets.
Oil prices are now down nearly 40 percent since briefly eclipsing $130 a barrel in March as investors bet that a war with Ukraine would derail Russia's oil exports. Concerns about oil supplies from Russia have proven overblown as the country continues to export crude oil.
Unprecedented by the Biden administration
Emergency oil release
It has also participated in the sale of oil from national reserves.
"There's no doubt that helped. That's one of the reasons we're not at $130 anymore," Yauger said.