North Korea identifies its first case of Covid-19, state media reports
1 min read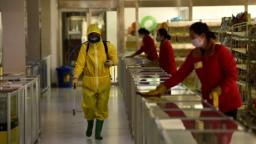 The state news agency CNA reported an omikron-type case in the capital, Pyongyang, calling the situation a "major national emergency."
It is not clear how many cases have been reported.
Spread of CoVID-19
It could be dangerous for North Korea.
. The country's dilapidated healthcare infrastructure is unlikely to be able to treat a large number of patients with the highly contagious disease.
North Korea has not previously acknowledged any coronavirus cases, although experts claim that this could be a result of Pyongyang's limited testing capabilities.
Few people believe that the country of about 25 million people has been saved from a virus that has infected millions of people worldwide, especially when its state media warned in 2020 that South Korea The inclusion of a symbolic defactor from could lead to a "fatal and catastrophic catastrophe."
This is a developing story. More to come.