Man arrested after rampage at Bangkok airport
2 min read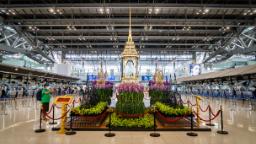 Bangkok (CNN) A man accused of carrying out an armed riot at Thailand's largest airport is now facing charges, one of which could carry the death penalty.
The man, identified as 34-year-old Vachara Khambut, is facing seven charges in connection with Wednesday's May 3 incident at Bangkok's Suvarna Bhoomi Airport.
According to Kitty Pong Katikachon, general manager of Savannah Bhoomi Airport, Khambut arrived at the airport on a motorcycle at 11:50 a.m. and tried to pass through a security checkpoint. When he was denied entry, he allegedly took a U-turn, entered the airport the other way and pulled out a gun.
Katikachon said the suspect is said to have climbed the stairs to the airport building where security guards say they saw him trying to break the glass door, which was his and the airport's. There was only one thing between the passenger section.
Khambut, from the northeastern Thai province of Luoy, was charged with felony criminal mischief, including felony criminal mischief for possession of property, intimidation and threatening to kill people, police Colonel Jeraut Pimpinsth told a news conference Thursday. Are
According to Pimpinseth, Khambut was carrying an ax but the gun was found to be fake. Police said Khambut was under the influence of drugs and had a pill called yaba – a mixture of methamphetamine and caffeine – when he was arrested.
"The maximum penalty is the death penalty, but there are still other judicial steps to be taken to decide whether the person should be given such a sentence," Piampanest told CNN.
Police said the motive behind the alleged incident could not be ascertained. The defendant said he did not say how he got to the airport, but added that
Top Photo Credit: Matt Hunt / SOPA Images / LightRocket by Getty Images